About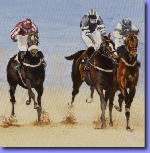 I am an artist who works in oils and my favourite subject is animals, mostly horses and dogs. I seek to create the personality in these animals. the character of the cheeky mutt and the strength and beauty of the horse. Recently I have been working also with Watercolurs, painting Cows, Hens Dogs and Horses, I am enjoying painting in Watercolour at the moment. There are some of my watercolours on my website but I feel they have to be viewed by the individual to see them at their best.
I grew up always having the family mutt and I have two now myself. My granda was a bookmaker and my Dad should have been one so maybe that where I get my love of horses.
Over the years I have studied in the National College of Art and Design, studying portraiture using watercolours under the tuition of Desmond Carrick, and studying oil pastels with Mary Burke. For the last few years I have been working in oils and find I achieve the best results
with this medium. I have studied oil painting under the tuition of Juan O'Perez.